A sewer or drain camera inspection is ideal for locating problems such as leaks, blockages, burst and collapsed pipes.  In Windsor and Essex County we frequently use a video camera to quickly and effectively diagnosis drain or sewer problems.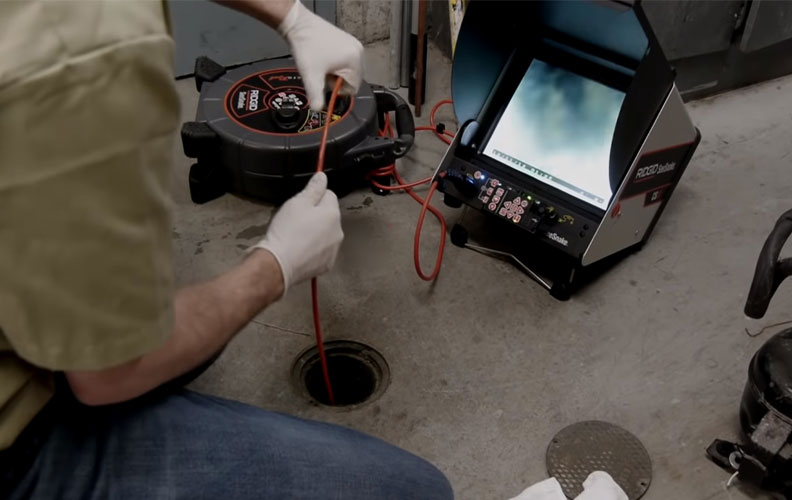 Drain and Sewer Camera's Save Time & Money
A sewer or drain camera inspection allows us to access and diagnose problem areas quickly.  This means saving time and money as we do not need to dig up your front lawn or tear out floors, walls, or a ceiling to located the source of a problem. Accessing sewer and drain pipes directly with cameras can identify problems before they cause major damage.
Windsor Sewer and Drain Camera Technology
By using a small camera on the end of a cable, we insert the camera into your drain.  This allows us to closely inspect the drain for any cracks or breaks. The camera provides a continuous live video feed to a monitor that our plumbers use to view problem areas in the pipes. A picture or video is taken to show our customers exactly what the problem is. The camera also tells us the exact location of the problem as it records the length of cable that's been deployed.
Common Problems Identified with a Drain Camera Inspection
Clogged Drains – A drain camera inspection identifies where clogs are located.  Clogged drains can cause a foul odor, flooding, blockages, or a sewage backup.
Fractured or Cracked Pipes – Pipe and drain cracks can be located and fixed faster with drain camera technology.
Collapsed Sewer and Drain Pipes – This is often the

result of years of poor drain maintenance or pipes that have become damaged.

Root Infestation – Cracked pipes can allow tree roots to find openings where they enter and grow, causing blockages. A drain camera inspection can diagnose this problem quickly.
Benefits of Camera Inspections
Quickly determine the source of a drain problem or bad odor.
Check the health of your plumbing system.
Assess the condition of existing plumbing when buying a new home.
Ensure your plumbing can handle your renovation plans.
Book an Inspection Now
If you need a drain video camera inspection, schedule an appointment with Dry-Rite Home Solutions today!
Inspections are performed for property owners living in Windsor, Tecumseh, Amherstburg, LaSalle, Essex, Belle River, Leamington, Wheatley, Tilbury and Kingsville.